Portable Autoclaves
---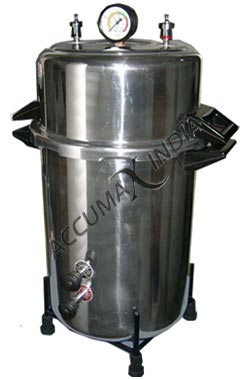 Portable Autoclave features seamless construction using thick aluminum sheet. These also feature anti-bulging base that provides additional strength and gasket support through food grade synthetic rubber for optimum process reliability and longer service life. These are smaller in size with an aluminum body, and fitted with stainless steel pressure gage, safety valve and steam release valve.
Specifications
Made from Aluminium
S.S. Pressure Gauge
Sizes: 300x300mm, 300x350mm, 300x400mm
Safely valve, steam release
Works on 220 V AC.
Features :
Provision of safety valve
Stainless steel based vacuum and steam release valves to avoid oxidation
Heating element support made using heavy copper pipe with chrome plating finish
Comes with electric cable support for handling heating loads
Handles made from heat resistant Bakelite finish
Anodized aluminum finish
Featuring neoprene gasket support
Applications :
Used for different chemical reactions in Pharma & Chemical industry
Used for pre-disposal treatment as well as sterilization of waste material
Apparatus designed for meeting requirements of dispensaries, medical missions, clinics, nursing homes, laboratories, operation theaters and others
Related Products / Services
Accumax India
Established in the year 1995, we Accumax India an ISO 9001:2000 Certified Company, are a business organization, actively engaged in the manufacture and export of scientific research and laboratory equipment & instruments. These lab equipments are manufactured with efforts of our dedicated team of techno crafts, medicos and scientists, which is sincerely engaged in continual improvement of our range through consistent R&D.

Further, we keep ourselves updated with the advanced technology and ensure to incorporate them in our manufacturing process. Our know-how of modern techniques for various applications and functions involved in the process of manufacturing and quality testing keeps us ahead of our competitors.

In pursuit of attaining excellence, the efforts of our company are directed towards incorporating the latest technological advancements and inputs, available at our end. Not only this, we don not leave any stone unturned towards ensuring the high degree of performance of these different scientific and laboratory instruments delivered by us.

We are manufacturers and exporters in India of Scientific Instruments, Laboratory Equipments, Research Instruments. Our Range of Products include Incubators, Laboratory Ovens, Dry / Water Baths, Heating Plates, Autoclaves, Mills, Water Distillation Apparatus, Laboratory Stirrers, Testing Meters etc.
Products / Services
---
Lab Oven, Incubator, Water Bath, Clean Air Equipment, Laboratory Equipments, Autoclave, Water Distillation Unit, Testing Meters, Mills, Heating & Cooling Equipment, Heating Plates, Laboratory Stirrers, Plant Growth Chambers
Nature of Business
Manufacturers, Exporters
Contact Person
Mr. Rajan Shanker / Miss. Rupali Kashyap
Contact Us
---
Accumax India
UG 37, Vishal Tower, District Centre, Janakpuri
Delhi 110058
Delhi, India
Related Products/Services in Delhi