Pathological Inclined Monocular Microscope
---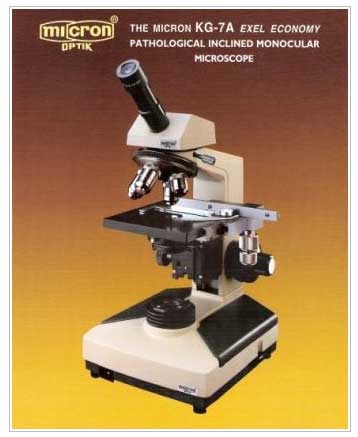 Code: KG 7A

Micron Pathological Inclined Monocular Microscope Model KG-7A Exel Economy is the newly introduced design for Medical colleges, Professionals & Laboratory use with the full features of the advanced research type Pathological Microscope. It has a very modern look & yet at a very affordable price that will surprise the most demanding users.

Standard Objectives: DIN
All the objectives are parcentered and parfocal minimize focusing procedures.

Features:
Mechanical tube length 160 mm.
45º inclined with 360 degree rotatable binocular head.
Co-axial built in Mechanical stage 125 x 150 mm with fine vernier graduation, designed with convenient coaxial adjustment on ball bearing guide ways for smooth slide manipulation through 50 x 70 mm.
Dust proof quadruple/quintruple ball bearing revolving nose piece with positive click stops.
Co-axial coarse & fine focusing adjustment knobs.. Fine motion, graduated to .002 mm.
Substage Abbe type N.A. 1.25 condenser focusable with rack & pinion, continuously variable iris diaphragm with built in swing out filter holder.
Steple Grey, chemical resistant, back-on finish.
Exclusive preset focus lock prevents damage to valuable slides and objectives.
Heavy rectangular sturdy base, with built-in illumination 6V ?? 20W halogen lamp.
Complete parts of the microscope are pressure Die-casted.
With dust cover packed in styrofoam packing
Related Products / Services
Adarsh Scientific Industries
Since 1965, ADARSH SCIENTIFIC INDUSTRIES has been a leading national source of laboratory and scientific products, instrumentation, equipment, and supplies. We are proven experts in the fields of providing equipments for school laboratories, consisting of physics, biology & chemistry labs. In this endeavour, with increasing Indian economy & education industry, we have increased our product range from schools to colleges of various fields. Engineering colleges, Medical Colleges, Pharmacy Colleges, Nursing Colleges, Dental Colleges, Polytechnic Colleges etc.
Products / Services
---
Scientific Instruments, Laboratory Equipment, Microscopes, Lab Plastic & Glasswares, Scientific Glass Equipment, Projectors, Balances, Chemicals, Physics Apparatus, Models & Charts, Electronic Training Kits, Ovens, Incubators, pH & Conductivity Meters, Stirrers & Shakers, Laminar Air Flow, Fume Hood Cabinets, Spectrophotometers
Year of Establishement
1965
Nature of Business
Manufacturers
Contact Person
Mr. Akhil Singhal
Contact Us
---
Adarsh Scientific Industries
5368, Cross Road No.2 , Nicholson Road, Ambala Cantt.
Ambala 133001
Haryana, India
Related Companies