Aci Turbo Air Ventilators
---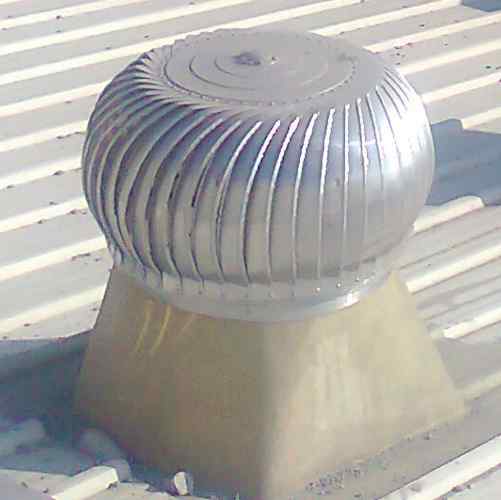 ACI wind Turbo Air Ventilator is Engineered and Computer Designed to Provide Optimum air Ventilation. It is light weight, high corrosion resistant, maintenance free, energy saving, provides efficient operation vent in a breeze of wind.
ACI Wind Turbo Air Ventilator is designed in Two size i.e., 21 & 24" fitted with Ball bearing & Stainless Steel Shaft to provide silent operation & trouble free maintenance. ACI vents are fabricated with special grade aluminum to anodized specification of JIS special grade H24, making it Stress resistant. The Teflon self lubricated impregnated bearing gives a smooth rotation and no maintenance for years.
ACI VENT BENEFITS
As the Polluted air is replaced by fresh air, people working inside will be active and healthy & their productivity will be increased.
Proper air ventilation will enhance the life of the roof sheet, structures, wall etc by removing accumulated heat, humidity (dampness) and polluted air.
ACI vents saves total electricity used for power exhaust system. Round the clock it works without any expenditure.
One unit saved is two units produced, you are saving your nation.
80% depreciation allowed as per IT act section 32.
ACI VENT VS OTHER VENTILATION SYSTEMS
| | |
| --- | --- |
| ACI TURBO VENTILATOR | CONVENTIONAL VENTILATORS |
| Non-conventional energy saving system | Conventional energy system required. |
| No electricity bills. Cost of Ventilator is recovered in the first year itself. | Electricity bills are a monthly feature. Increasing cost of electricity makes electrically operated-ventilator a costly proposition. |
| Not required heavy structures on roof. | Heavy structures have to be mounted on the roof. |
| Vibration-free operation | Roof becomes weak due to vibrations with Conventional ventilators |
| Assured operation for 24 hours a day, 365 days a year | Can operate only when power supply is available & needed |
| No maintenance costs as there are not armatures / field coils/switches. | Maintenance cost will be required |
NEED FOR VENTILATION
Proper ventilation is necessary in all buildings, which are extremely susceptible to condensation and heat transfer. Generally, hot or stale air will not exhaust through an opening into which wind can blow. Therefore, regular static ventilators, which allow outside wind to enter in the shed because of over design or location on the roof, cannot be expected to exhaust because they back draft. An efficient means of extracting warm and stale air is through roof mounted turbo ventilators, which create positive draft, removes hot gases, obnoxious fumes, bad odour, enhances ventilation. Adequate low level provision for the entry of fresh air at ambient temperature should be provided.
ACI VENTS FEATURES
Helps prolong life of insulation, shingles, roofing material and rafters.
Energy free cooling, cuts on air conditioning cos reduces winter moisture damage.
Stainless Steel Shaft with Teflon self lubricated bearing for durability and friction free turning.
Precision balanced, low inertia head design, turns in the slightest breeze.
Smooth and quite operations.
Attractive low profile design.
Ribbed design adds strength, high speed limiting device protects against high wind and to shed water.
Related Products / Services
Air Creations India
M/s. Air Creations India (ACI), formed 4 years back of experts and enthusiastic work force. We look back at the completion of 3 years of operation successfully with customer's satisfactions, having made our presence felt all over India having a customer's base of more thane 170 satisfied customers. We have certain norms and targets set by committed and enthusiastic staff and are confident of being able to achieve our vision and targets.

It takes grate pleasure to reveal that we have launched World's most sought out for Industrial Exhaustion, 'TURBINE AIR VENTILATORS' in India. We are proud to introduce as the only manufacturer of Turbine Ventilators in India. We are equipped with state of the art manufacturing unit and equipment's in India. We have indigenously developed and manufactured these products under stringent quality checks at every stages of production to give the end product the best performance standards.

With our State of art manufacturing plant at Delhi and dedicated Marketing Team all Over India and years of research , design, development, production and installations of these turbine ventilators to give you the maximum benefits from the product, both at accuracy level and perfect performance. Our after sales service team further guarantees a total customer's satisfaction for life. The product is well accepted acknowledged by Genuine Industrial Experts and is recommended by leading Industrial Architects/ Roofing Consultants and Turnkey Project Companies in India.
Products / Services
---
Nature of Business
Manufacturers, Exporters
Contact Person
Mr. Shailesh Kumar Sharma
Contact Us
---
Air Creations India
207, 2nd Floor Usha Kiran Building, Azadpur Commercial Complex
Delhi 110033
Delhi, India
Related Companies