| | |
| --- | --- |
| Akanksha International, Moradabad | |
About Us
Incorporated in the year 1995, Akanksha International is India's leading Handicrafts Decor Exporter specialising in metal handcrafted accessories, candle stand, home decor, table top, designer candle holder, wall decor, furniture etc. We are located in Moradabad, Uttar Pradesh. A lavish collection of handcrafted furniture, crafted with passion, coated in experience and love, ready to fill your life with luxury and comfort.
Having been in the field from the past three decades, Akanksha has steadily expanded their product line enabling them to move in the wood & marble category products as well. We at Akanksha International lay significant emphasis on exclusivity through new & innovative designs.
Year of Establishement
1995
Nature of Business
Manufacturers
Contact Person
Gaurav Malhotra
Certification
Member of Indian Industries Association
We also have Compliances in SA 8000 and SEDEX.
Our Brand has also been recognised by Ministry of Commerce & Industry and by CRISIL with an SME Rating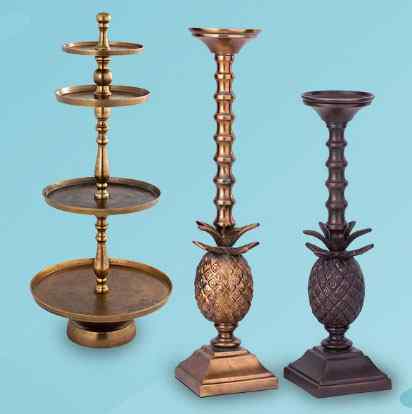 Our Products / Services
Pillar Candle Stand

Home Decor Items

Flower Vase

Table Lamps

Mirrors

Table Top Items

Antique Furniture

Home Furniture

Mirror Frames

Picture Frame

Photo Frames

Table Top

Table Top Sets & Accessories

Tableware

Trays

Flower Vases

Book Shelves

Coffee Tables

Consoles

Drink Tables

Drum Stools

Nesting Tables

Side Tables

Trollies

Different Types Of Accent Furniture
As a leader in the industry, Akanksha International has set the bar with its unwavering commitment to quality, performance & exceptional customer care. Through our extensive selection of services & expansive product designs, we go above and beyond to ensure our customers needs are not just met but exceed beyond expectations.

Akanksha has a well established client base across the globe. We have been supplying furniture and accessories to 200+ clients across the globe spread across 10+ countries, leading the industry for over 25 years. Having been in the field from the past three decades, we have steadily expanded our product line enabling us to move in the wood & marble category products as well. We at Akanksha International lay significant emphasis on exclusivity through new & innovative designs.

Akanksha's team of expert craftsmen exceed 300+ in counting. Our entire production process is in-house from manufacturing to testing and packaging. We are accommodated with the latest industrial high-tech equipments. A 100% In-house production provides us with the freedom of being entirely self-dependent, reliable and enables us to manage the quality of our products. We are always true to our commitment of delivering Premium quality to the satisfaction of our clients and dealers.

We specialize in two categories:
ACCESSORIES: Candle & Pillar Holders, Décor, Vases, Table Tops, Lamps & Mirrors

FURNITURE: Book Shelves, Coffee Tables, Consoles, Drink Tables, Drum Stools, Nesting Tables, Side Tables, Trollies & Different types of Accent furniture
Contact Us
Akanksha International
Lakri Fazalpur, Behind Akanksha Automobile Delhi Road
Moradabad, Uttar Pradesh 244001, India

Related Products/Services in Moradabad