Heavy Duty Pitless Weighbridge
---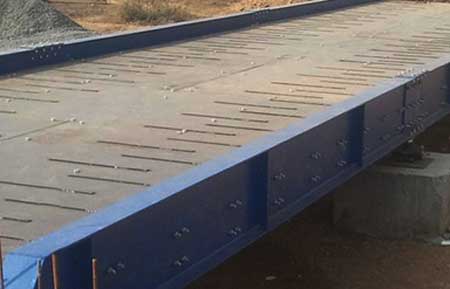 Pitless type of Weighbridge are preferred as it does not require construction of concrete pit which is not only time consuming but makes the entire installation costly. Heavy Duty Weighbridge can be installed on the hard and level ground and takes much lesser time for installation. Since the platform would be raised and above the ground level, the ramps (steel of concrete) would be need for approaching vehicles. Maintenance is also easy as all the equipment and accessories are easily accessible from above the ground.

Related Products / Services
Advance Tech Weighbridge
Advance Tech Weighbridge, Faridabad, an ISO 9001:2008 manufacturing company, is one of the fastest growing and eminent manufacturers and suppliers of electronic weighbridge & weighing systems in India. We have been at the forefront of electronic weighbridge technology since 2007 and offer comprehensive range of Weighbridges, Weighing Systems & Scales, Mobile Weighbridges, Portable Weighing Systems, In-Motion Weighing Systems, Static Weighing Solutions, Truck Scales, Axle Weighbridges and Pads, and various other weighing systems and solutions. We also offer customer centric weighbridge services and maintenance for our clients all over India.
Products / Services: Electronic Weighbridge Manufacturers, Mobile Weighbridge, Pitless Weighbridge, RCC Weigh Bridge
Nature of Business
Manufacturers
Contact Person
Mr. Manoj Kumar
Contact Us
---
Advance Tech Weighbridge
Plot No. - 62, 63 Sector-23, Sanjay colony
Faridabad
Haryana, India
Related Companies
Newly Added Products