Fully Engraved Pure Brass Buddha Statue
---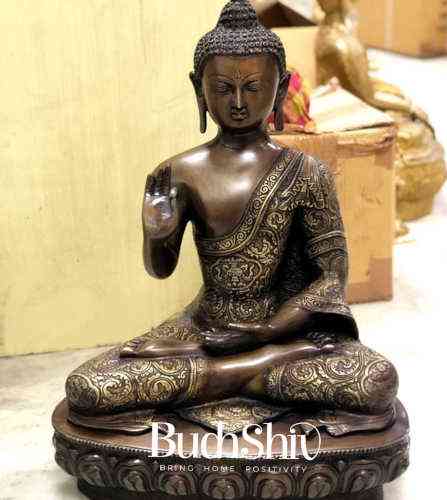 A very Beautiful Buddha with an engraved robe sitting in a blessing Posture. The abhaya Mudra is Buddhas aashirwaad pose. Bring home positivity with this masterpiece. Material used is pure superfine Brass with Brown Copper wash. It is a Pure Brass Buddha statue fully engraved.

Product Information
Height: 22.5 inches or 57.15 cms
Width: 17.5 inches or 44.45 cms
Depth: 12 inches or 30.48 cms
Weight: 23 kgs
Related Products / Services
BudhShiv
BudhShiv, Delhi is a noteworthy manufacturers, suppliers, dealers in India of exclusive variety of Handcrafted brass handicrafts and articles including brass statues, Lord Ganesha Idol, Laxmi Ganesh Idol, Radha Krishna Idol, Brass Decorative Items etc. We are all about Brass! Delivering Positivity to your homes! Trusted by over 1000 customers.
Products / Services
---
Brass Handicrafts, Pure Brass Statues, brass statues, Lord Ganesha Idol, Laxmi Ganesh Idol, Radha Krishna Idol, Brass Decorative Items, Lord Shiva Statues, Murleedhar Krishan Statues
Year of Establishement
2011
Nature of Business
Manufacturers
Contact Us
---
BudhShiv
Lajpat Nagar I
Delhi 110024
Delhi, India
Related Products/Services
Related Companies
Related Products/Services in Delhi