Godess Durga Idol
---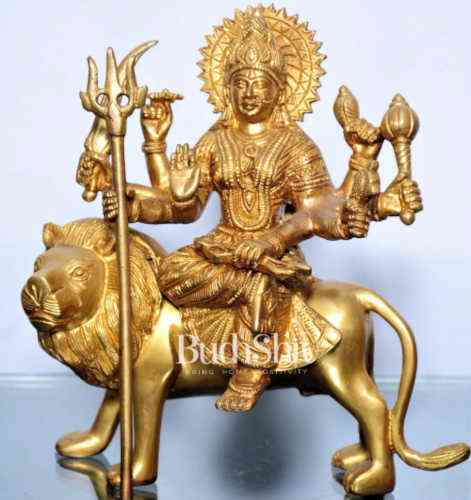 Material: Handcrafted in pure brass
Finish: Golden finish, carved with perfection
Width: 8.5 inches ( 21.5 cm )
Depth: 3.5 inches (9 cm)
Height 10 inches ( 25.4 cm)

This Godess Durga idol is handcrafted in pure brass with a golden finish. The idol shows Durga sitting on the lion also known as Sherawali ma. Durga with arms has a great significance in our sciptures. Keeping this idol will protect you from evil and invite prosperity. Carved with perfection the idol is 10 inches high and will add a spark to your office tables, home temples, study tables and entrances.
Related Products / Services
BudhShiv
BudhShiv, Delhi is a noteworthy manufacturers, suppliers, dealers in India of exclusive variety of Handcrafted brass handicrafts and articles including brass statues, Lord Ganesha Idol, Laxmi Ganesh Idol, Radha Krishna Idol, Brass Decorative Items etc. We are all about Brass! Delivering Positivity to your homes! Trusted by over 1000 customers.
Products / Services
---
Brass Handicrafts, Pure Brass Statues, brass statues, Lord Ganesha Idol, Laxmi Ganesh Idol, Radha Krishna Idol, Brass Decorative Items, Lord Shiva Statues, Murleedhar Krishan Statues
Year of Establishement
2011
Nature of Business
Manufacturers
Contact Us
---
BudhShiv
Lajpat Nagar I
Delhi 110024
Delhi, India
Related Products/Services
Related Companies
Related Products/Services in Delhi