Pitless Type Weighbridge
---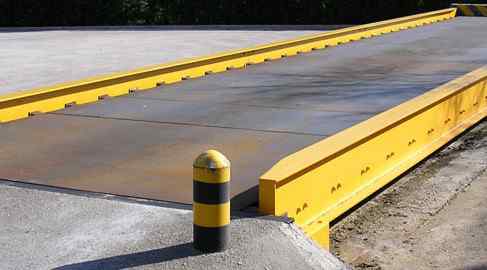 Pitless weighbridge sits above of the road surface and requires ramps on either end to allow the vehicles to access the platform. The amount of civil foundations work required is reduced for surface mounted weighbridge, but the overall space requirement is more. Before purchasing, check the overall height of the Weighbridge. Higher decks need longer ramps, which increase the overall footprint of the weighbridge as well as the turning circle for vehicles approaching the bridge.

Generally, surface mounted weighbridges require guide rails fixed on the sides of the platform, which help vehicles to be aligned centrally on the bridge. This type of installation is better suited when the bridge may need to be shifted, or for temporary (sometimes called 'Portable') installations.
In most cases the site conditions, such as availability of space, will dictate the type of weighbridge available to you. Both surface and pit mounted weighbridges require a firm surface with load bearing capacity, the details of which will be specified in the Plan of Foundation drawings provided by the weighbridge supplier. It may be advantageous to choose a weighbridge which has a common structural design for surface and pit mounting, this will allow future flexibility for changing the type of weighbridge
Benefits of Pitless Weighbridge
Costly Pit construction is eliminated.
Platform above ground level- No water logging during rainy season
Problem of pit maintenance is eliminated.
Easy maintenance since all parts accessible above ground level.
In Pitless weighbridges RCC ramp work must be required at least 3 meters for both sides for easy movement of vehicle
Related Products / Services
Expert Weighing Solution
We at "Expert" offering an extract of 15 invincible years of Weighing Solutions. I.e. Industrial Truck Scales, Weighing Scales, Industrial Weighing and Automations. We are having thorough expertise in this industry. We haveAN ISO: 9001 - 2015 certified manufacturing unit at Ahmedabad Gujarat, India.

We have been Manufacturing ISO certified Industrial Truck Scales, Laboratory Balance & Industrial Automation with the objectives to Battar quality and aim to serve entire weighing solution to our domestic and international clients. ss We at "Expert" has traits to quality manufacturing, simultaneous services like accurate installation and make spare available to our clients as required. We design best...we have best calibre… We craft best...we weigh best and accurate ...Our aim to build weigh bridge between Quality Demand and Best "Expert' Outputs.
Products / Services
---
Weighbridges, Weighing & Industrial Automation, Crane Scales, Parts & Accessories of Weighbridge, Weighing Scales
Year of Establishement
2002
Nature of Business
Manufacturers, Exporters
Contact Person
Mr. Maulik Patel
Certification
ISO 9001 : 2015 Certified
Contact Us
---
Expert Weighing Solution
Third Floor, 15-B, Gopikunj Society, Behind Pragati Nagar Garden,
Ahmedabad 380013
Gujarat, India
Related Products/Services in Ahmedabad