Swing Land Playcenter
---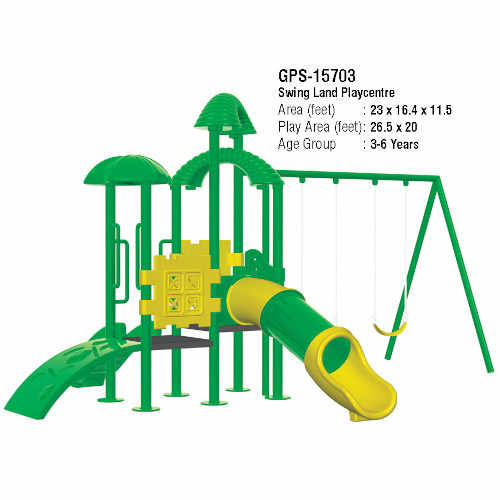 Code: GPS-15703

Area (Feet): 23 x 16.4 x 11.5
Play Area (Feet): 26.5 x 20
Product Code: GPS - 15703
Colour: Yellow, Green
Age Group: 3-6 Years
No. of Swing: 2
Usage: For School Playground, Parks, Shopping Malls etc.

Gro Kids International Pvt. Ltd.
Gro Kids International Pvt. Ltd.
, based in New Delhi, India is a well-known company in the field of Outdoor Play Equipments like Playground Swings, Kids Slides, Soft Toys, Rider, School Furniture, Outdoor Playground Equipments, Kids Amusement Equipments etc. These are smooth in finish and used in kindergartens, play school, pre school & creches for encouraging activities for kids.
Why Us?
Some of our strengths that make us a leading name in this field are:
Superior quality
Long experience and extensive industry knowledge
Timely execution of assignments
Competitive prices
Customer oriented approach
Unending pursuit of product, process and performance optimization
Products / Services
---
Kids Slides, Swings, Seesaw, Merry Go Round, Multi Play stations, Spring Riders
Nature of Business
Manufacturers
Contact Person
Mr. Abhinav Gupta
Contact Us
---
Gro Kids International Pvt. Ltd.
WZ-14B, Plot No: 2, Manohar Park
Delhi 110026
Delhi, India
Related Products/Services in Delhi