3 Phase Servo Stabilizer
---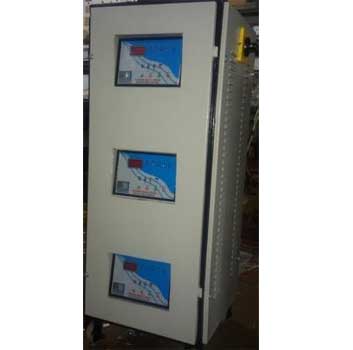 Backed by huge experience, we offer 50 KVA 3 phase Servo Stabilizer to protect costly and sensitive electrical and electronic devices, equipment, machines etc. from damage due to variations in power voltage from lot to high.

By supplying a constant required output voltage, these servo stabilizers not only saves money by saving them from damage but also increases the efficiency and performance of these devices and equipment. To give a hassle free experience to our customers, all our products go through a strict quality control parameters in terms of quality of raw materials and components, their performance and output voltage when subjected to lowest and highest voltage, heating of the product when used over a long period of time etc. Only when a product passes all these parameters we deliver the defect free servo stabilizer to our clients.
Related Products / Services
Power Bank India
Backed by nearly 2 decades of experience and industry knowledge, Power Bank India, Delhi, today is renowned manufacturers and suppliers in India of Servo Voltage Stabilizers, Automatic Voltage Stabilizers, Air Cooled Servo Voltage Stabilizer, Isolation Transformers, Auto Variable Transformer, Industrial Stabilizer, Power Transformers and Electronic Control Panels. All our products are customized as per the specifications of our clients and are tested before being supplied to our clients. Our Servo Stabilizers are available in single as well as three phase in natural air cooled and oil cooled versions. We offer them in various range including 15 KVA, 20 KVA, 25 KVA, 50 KVA, 75 KVA, 100 KVA, 750 KVA, 1000 KVA and as per the requirements of our clients.
Products / Services
---
Servo Voltage Stabilizers, Isolation Transformer, Step Down Transformer, 50 KVA 3 phase Servo Stabilizer, 25 KVA Air Cooled Servo Stabilizer
Year of Establishement
1999
Nature of Business
Manufacturers, Exporters
Contact Person
Mr. Narendra Panchal
Contact Us
---
Power Bank India
E-159, Sector A-7 Part 1, UPSIDC Industrial Area Tds City, Tronica City, Loni (Serves Delhi, Noida))
Ghaziabad 201102
Uttar Pradesh, India
Recently Registerd Companies in Ghaziabad, Uttar Pradesh
---
---
Zenelec Power Systems Pvt. Ltd.
No. 37, Block II, SIDCO Electroincs Complex, Guindy Industrial Estate, Chennai - 600 032
---
---
---
---
---
---