25 Kva Servo Voltage Stabilizer
---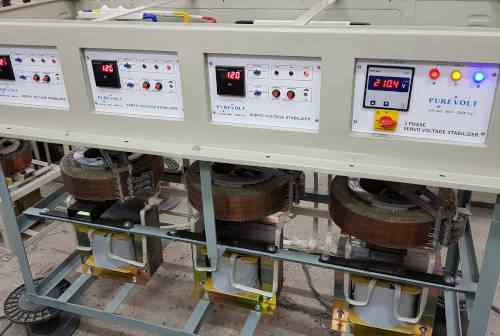 Since 1994, Purevolt is a recognised manufacturer of servo voltage stabilizer which are manufactured using latest micro-controller based technologies. Our broad array of servo stabilizers are easily serviceable and requires negligible maintenance and is capable to handle and manage severe voltage fluctuations with ease.

Product Information
---
Purevolt Servo Voltage Stabilizer are designed to provide constant and stable output voltage with + - 1 % regulations. These servo voltage stabilizer ensure that your costly machinery and plant is always getting constant and fixed output supply which ensures their safe operation.

We have two type of standard construction topologies depending upon the customer site and environment conditions. Servo Type Voltage Stabilizers can be classified as air cooled models stabilizers and oil cooled stabilizers. The basic design , function and performance remains the same , the only difference is the nature of cooling we provide. For Air type Servo Stabilizers we used Exhaust Fans , Louvers to provide natural cooling to inside assembly . however in case of Oil type Servo controlled stabilizers we used Metal Sheet Tank and the whole assembly is then put inside this Tank which is filled with new mineral insulating oil. This oil is popularly called as Transformer Oil. This Oil provided the cooling effect to the inside assembly as the inside transformer tends to heat up on load.
Application: Hospitals, Laboratories, various life saving & testing equipments, pharmaceuticals, Research Institutes, Defence, Telecommunications, Air Conditioning, Data Processing, Electronics based Industrial, Educational institutes, Food processing units, Paper plants, Footwear and Leather industrial, Cement Plants, Textile Industries, Moulding units, Hotels, Farms houses, Offices and residences/ housing apartment

Available Ratings: 1.0 KVA to 2000 KVA ( 1 / 3 Phase)
Related Products / Services
Purevolt Products Pvt. Ltd.
Purevolt is an ISO 9001 - 2015 Certified Organization & a registered MSME, NSIC, D&B and SSI Unit, well-known as distinguished manufacturers, exporters and suppliers of all types of Servo Voltage Stabilizers, Voltage Regulators, Sine Wave Inverters and Isolation Transformers. Our Servo Stabilizers are available in Single as well as Three Phase with natural air cooled or oil cooled version in standard specifications as well as customized designed as per the specifications and requirements of our esteemed clients. Also, our versatile range of electric and electronic goods suits all kinds of needs of major homes, offices and industries. Our voltage stabilizers find use in commercial, residential and industrial sectors. These devices provide protection against voltage fluctuations, spike, noise and thermal overload.
Products / Services
---
Servo Voltage Stabilizers, Automatic Voltage Stabilizers, Voltage Controllers , Sine Wave Inverter, Home Ups , Isolation Transformers, LED Light and Fittings and Variable Auto Transformer
Year of Establishement
1994
CIN
U74899DL1994PTC063060
Nature of Business
Manufacturers
Contact Person
Mr. A. K. Gupta
Certification
ISO 9001: 2008 Certified Company, IEC, NSIC, D&B and SSI Unit, SONCAP Certified
Contact Us
---
Purevolt Products Pvt. Ltd.
D- 9 / 6, Okhla Industrial Area, Phase - I
Delhi 110020
Delhi, India
Related Companies
Related Products/Services in Delhi