| | |
| --- | --- |
| Sakthi Electrical Control, Coimbatore | |
About Us
An ISO 9001:2008 certified company,
Sakthi Electrical Control
, Coimbatore is reputed manufacturers, suppliers and exporters of power products like servo voltage stabilizers, isolation transformers. Innovation and usage of latest technology and machinery has given us a distinctive advantage. We design and manufacture according to the specifications and requirements of our clients. With more than 20 years of experience and our expertise in the field, we are now one of the largest exporter of servo stabilizer and isolation transformers.
Year of Establishement
2005
Nature of Business
Manufacturers, Exporters
Contact Person
Mr. Thilagar
Certification
An ISO 9001:2008 certified company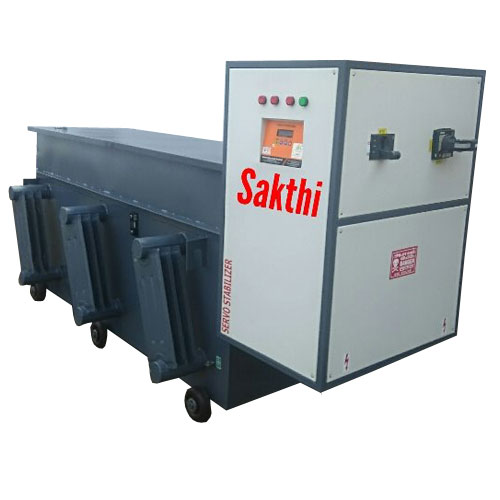 Our Products / Services
Servo Stabilizer

Voltage Stabilizers

Energy Saver

Plating Rectifier

Industrial Automation

Ups

Isolation Transformer
Products Offered :
Servo Stabilizer, Voltage Stabilizer, Variac, Servo Motor, Avr, Cvt, Ups, Variac, Voltage Transformers, Transformer, Variac, Manual Voltage Stabilizer, Isolation Transformer, Single Phase Motorized, Portable Closed Variac, Portable Open Variac, Air Cooled Servo Stabilizer, Oil Cooled Servo Stabilizer, Single Phase Servo Stabilizer, Servo, Manual, Stabilizers, Regulators, Servo Stabilizers, Rectifiers, Ht Avr, Voltage Regulators, Voltage Controllers, Servo Controlled Voltage Stabilizers, Automatic Voltage Controllers, Automatic Servo Voltage Stabilizers, Automatic Voltage Regulators, Earthing Transformers, Distribution Transformers, Power Transformers, Low Voltage Transformers, Medium Voltage Transformers, High Voltage Transformers, Neutral Transformers, Ultra Isolation Transformers, Variable Transformers, Furnace Transformers, Electric Traction Transformers, Off Load Tap Changer Transformers, Dc Rectifiers, Plating Rectifiers, Electric Traction Rectifiers, Anodizing Rectifiers, Three Phase Servo Stabilizer, Constant Voltage Transformers, Air Cooled Transformers, Three Phase Servo Voltage Stabilizer, Digital Display Servo Stabilizers, Motorized Control Auto Transformer, Ac Stabilizers, Refrigerator Stabilizers, Single Phase Variac, Power Stabilizers, Digital Servo Voltage Stabilizers, Three Phase Stabilizers, Single Phase Stabilizers, Electronic Voltage Stabilizers, Main Line Voltage Stabilizers, Toroidal Transformers, Ac/dc Chokes, Inductors, Automatic Stabilizers, Electrical Transformers, Industrial Transformers, Line Interactive Ups, Ac Voltage Stabilizer, Single Phase Voltage Stabilizer, Three Phase Voltage Stabilizer, Centralized Voltage Stabilizers, Motorised Variac, Three Phase Variac, Coils Variac, Dimmer, Variable Voltage Auto Transformers, Servo Controlled Voltage Stabilizer, Automatic Voltage Stabilizer, Manual Stabilizer, Variac Transformer, Current Transformer, Auto Transformer, Autovolt Variacs, Variable Auto-transformers, Servo Transformers, Ce Marked Transformer, Three Phase Transformers, Control Panel Transformers, Rectifier Transformer, Manual Transformers, Cvt Transformers, Three Phase Transformers Electrical Transformer.
Contact Us
Sakthi Electrical Control
No.47, bharathi street, Chinnavedampatti
Coimbatore - 641006, Tamil Nadu, India


Related Products/Services