Oil Cooled Servo Stabilizers
---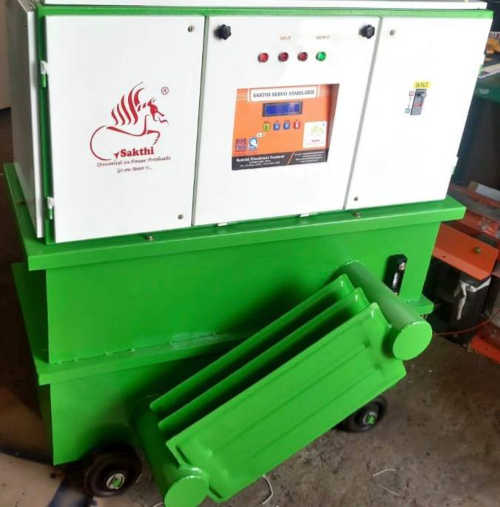 Oil Cooled Servo Stabilizers offered by us are manufactured from high grade raw material as per the requirements of our valued clients that are spread across the country. These are motorized with AC or DC motors and are extensively applicable for air cooled rating. We use 60 rpm stepper synchronous motor that are appropriate for 3KVA TO 5000KVA supply and needs special maintenance. Oil cooled servo stabilizers are preferred over air cooled if the requirement is above 40KVA as it gives better performance.

Related Products / Services
Sakthi Electrical Control
An ISO 9001:2008 certified company, Sakthi Electrical Control, Coimbatore is reputed manufacturers, suppliers and exporters of power products like servo voltage stabilizers, isolation transformers. Innovation and usage of latest technology and machinery has given us a distinctive advantage. We design and manufacture according to the specifications and requirements of our clients. With more than 20 years of experience and our expertise in the field, we are now one of the largest exporter of servo stabilizer and isolation transformers.

Products / Services
---
Servo Stabilizer, Voltage Stabilizers, Energy Saver, Plating Rectifier, Industrial Automation, Ups, Isolation Transformer
Year of Establishement
2005
Nature of Business
Manufacturers, Exporters
Contact Person
Mr. Thilagar
Certification
An ISO 9001:2008 certified company
Contact Us
---
Sakthi Electrical Control
No.47, bharathi street, Chinnavedampatti
Coimbatore 641006
Tamil Nadu, India
Related Companies
Recently Registerd Companies in Coimbatore, Tamil Nadu
---
---
---
---
---
---
---
---
---
Shagun Industries
60, Vijay Block, Laxmi Nagar, Delhi - 110092
---
Galaxy Online Power Systems Pvt. Ltd.
No. 129, FIE 1st Floor, Patparganj Industrial Area, Delhi - 110092
---
Zenelec Power Systems Pvt. Ltd.
No. 37, Block II, SIDCO Electroincs Complex, Guindy Industrial Estate, Chennai - 600 032
---