Centralized Servo Stabilizers
---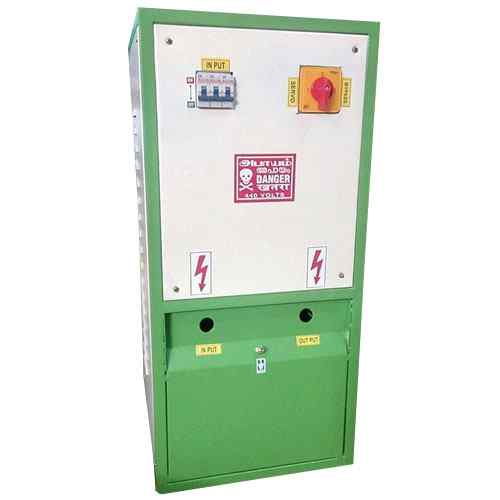 Code: 001

We offer to our customers a wide range of Centralized Servo Stabilizers, which comes with auto and manual selector switch and input or output volt selector switch. These centralized servo stabilizer also provide protection from over load at input. Our stabilizers are widely used for various industrial and institutional applications, owing to the striking features such as maximum efficiency, no effect on frequency and fast rate of correction.

Some of the quality attributes of these stabilizers include Durability, Efficient functioning, requirement of low maintenance etc.

Our Supply Network :
Andhra Pradesh, Arunachal Pradesh, Guwahati, Assam, Sikkim, Nagaland, Mizoram, Gandhinagar, Kanpur, Varanasi, Patna, Agartala, Karnataka, Bhubaneswar, Assam, Hyderabad, Bhopal, Indore, Dehradun, Rajasthan, Lucknow, Punjab, Kerala, Moradabad, Mumbai, New Delhi, Ludhiana, Jaipur, Chandigarh, Pune, Rudrapur, Tamil Nadu, Goa, Tripura, Bangalore, Chennai, Orissa, Srinagar, Meerut, Kolkata, Guwahati, Chhattisgarh, Kohima, Ranchi, Pondicherry, Gujrat, Arunachal Pradesh, Bihar, Madhya Pradesh, Maharashtra, Nagpur, Raipur, Thiruvananthapuram, Daman, Sri Ganganagar, Jammu & Kashmir, Uttar Pradesh, Silvassa.
Our Export Network :
Afghanistan,Bahrain, Bangladesh, Bhutan, Canada, Boston, Egypt, Cairo, lagos, Ikeja, Dubai, Uae, Sharjah, Abu Dhabi, Sudan, Dhaka, Bangladesh, Nepal, Bhutan, Sri Lanka, Ghana, Israel, Kenya, Lebanon, Malaysia, Mozambique, Oman, Namibia, Nepal, Nigeria, Qatar, Russia, Singapore, Saudi Arabia, Dammam, Kuala Lumpur, Indonesia, Vietnam, South Africa, Zimbabwe, Thailand, United Arab Emirates, Uganda, United Kingdom, UK, Tanzania, United States, Chile, Peru, Yemen, Zambia.
Related Products / Services
Sakthi Electrical Control
An ISO 9001:2008 certified company, Sakthi Electrical Control, Coimbatore is reputed manufacturers, suppliers and exporters of power products like servo voltage stabilizers, isolation transformers. Innovation and usage of latest technology and machinery has given us a distinctive advantage. We design and manufacture according to the specifications and requirements of our clients. With more than 20 years of experience and our expertise in the field, we are now one of the largest exporter of servo stabilizer and isolation transformers.

Products / Services
---
Servo Stabilizer, Voltage Stabilizers, Energy Saver, Plating Rectifier, Industrial Automation, Ups, Isolation Transformer
Year of Establishement
2005
Nature of Business
Manufacturers, Exporters
Contact Person
Mr. Thilagar
Certification
An ISO 9001:2008 certified company
Contact Us
---
Sakthi Electrical Control
No.47, bharathi street, Chinnavedampatti
Coimbatore 641006
Tamil Nadu, India
Related Companies