Snc Playground Double A Shape Swing
---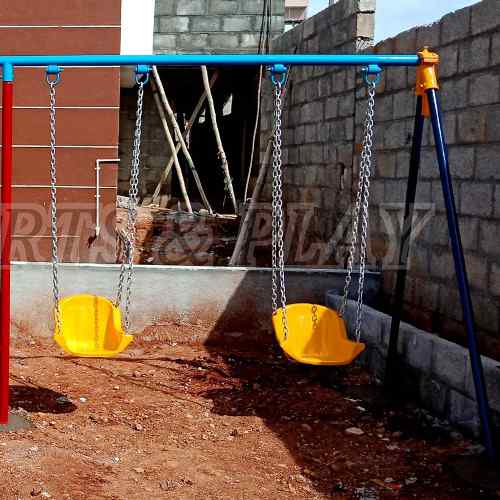 Product Code: SNC-54593
No. of Slides: 2 Kids
Swing Height: 8 Feet
Suggested Age Range: 3-12 Years
Load Carrying Limit: 150 Kgs.
Material: Mild Steel, Colour Coated
Usage: For Play Schools, Parks, Playgrounds, Daycare Centres, Malls etc.

Related Products / Services
S. N. C. Sports and Play Equipments
S. N. C Sports and Play Equipments, Bangalore is leading manufacturers, suppliers & dealers in India of Children Play Equipment, School Furniture, Playground Equimpent, Basket Ball Post & Board, FRP Products, Gym Equipment, Park Benches, Volley Ball Post, Multi Play Systems, Metal Dust Bins and all type Sports Equipments and we are also service providers for all these equipment.
Products / Services: Playground Equipment, Kids Slides, Swings, School Furniture, Sports Equipment, School Desk, Park Benches
Year of Establishement
2013
Nature of Business
Manufacturers
Contact Person
Mr. S. Gangadhar
Contact Us
---
S. N. C. Sports and Play Equipments
14, Segie Halli, Behind Bhairaveshwara Timbers,Magadi Main Road, opposite Rashi Residency
Bangalore 560091
Karnataka, India
Related Companies
Related Products/Services in Bangalore
Newly Added Products