Seesaw Suppliers
---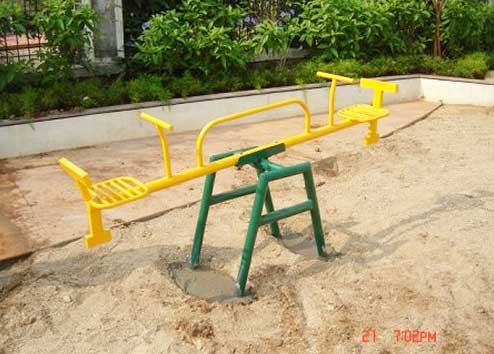 Playground Seesaw is a popular amusement equipment among kids of different age groups and is sought after by children parks, residential and public parks, shopping mall, hotels and resorts, play school etc.

Our seesaw is appreciated for its attractive design, appealing colors, seamless performance, no maintenance, long functional life and available at reasonable price. This has enabled us to become leading manufacturers, suppliers and dealers in Pune, Maharashtra, India of different types of playground equipment including kids seesas.
Details of Sea-Saw
All frame in 50od MS pipe & 25od 16g ms pipe.
Seat in plane CRC sheet
Fully powder coated.
Size: L6" x W1.5" x H2"
Related Products / Services
Unique Enterprises
Unique Enterprises, Pune, Maharashtra is leading manufacturers, suppliers and dealers in India of School Furniture, Classroom Furniture, Playground Equipment, Preschool Furniture, educational furniture, school library furniture, School Desk, School Bench etc.

We offer the highest quality school furniture and playground equipment, as well as the finest customer support. We are known for best source of low price school furniture and school play equipment in Pune. Our products help in creating a better learning environment for less and also to upgrade your classroom, playgrounds, garden etc. Unique Enterprises presents a wide selection of products, including a large variety of eco - friendly furniture, at competitive price to meet any budget.
Products / Services
---
School Benches, Play School Desk, School Furniture, Playground Equipment, Kids Slides, Swings, Kindergarten Furniture
Nature of Business
Manufacturers
Contact Person
Mr. Suresh Lahane
Contact Us
---
Unique Enterprises
Ajinkyatara Industrial Estate, Sr. No. 37/1, Plot No. 5 A, Sihgad road, Wadgaon Budruk
Pune 411041
Maharashtra, India
Related Companies