Pitless Weighbridge
---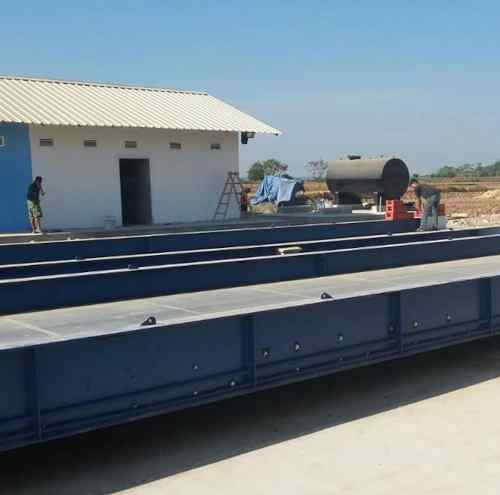 To meet the requirements of our clients we are offering highest quality pitless surface weighbridge which is known for its accuracy, seamless performance, durability and sturdy construction. These are manufactured and installed using premium quality products, spares and latest machinery sourced from well-known and trustworthy manufacturers and suppliers under the strict guidance of skilled and experienced technocrats in compliance with the international standards.

Pit Type Vs Pitless Weighbridge
To chose between pit type or pitless weighbridge, the most important parameter that the client has to consider is the availability of the required land.
The pitless weighbridge would be installed on the surface level and hence it would be above the ground and so approaching ramps would be required and the length of the ramps would be directly proportional to the height of the pitless weighbridge. Higher the height of the weighbridge, longer the ramps would be required.
On the other hand in case of pit type weighbridge, the concrete or steel frames are at the ground level and hence negligible or no approach ramps would be required and so minimum space would be needed.
Pricing of Pitless Weighbridge
The cost of pitless weighbridge is lower than than of pit type weighbridge but more space would be required for pitless weighbridge. In case of pit type weighbridge, proper cleaning schedule should be adhered to and drainage system should be installed and maintenance should be done on regular basis. The load cells and other components in case of pit type weighbride would be under the surface area in the pit which may lead to water logging and mud getting accumulated in the pit particularly during the rainy season. The person looking after the weighbridge should also ensure that the trucks entering the weighbridge should approach at lower speed and with care which would ensure longer life of weighbridge.
Related Products / Services
Unitech System & Automation
Established in February 2009, Unitech Systems & Automation, based in Surat, Gujarat, an ISO 9001:2008 certified firm, is a leading manufacturer, supplier and trader of wide range of weighbridge and weighing machines including electronic weighbridge, pitless weighbridge, pit type weighbridge, mobile weighing bridge, railway weighbridge, surface mounted weighbridge, RCC weighbridge etc. Our weighbridge are known for their high quality construction using premium raw materials and components sourced from well-known vendors, sturdy design, durability, accurate reading, minimum maintenance, long life and highest ROI for our customers.
Products / Services: Electronic Weighbridge, Load Cells, Weighing Machines, Truck Scale, Digital Indicators, Junction Box
Nature of Business
Manufacturers, Exporters
Contact Person
Mr. Rajnish Lakhani
Contact Us
---
Unitech System & Automation
Plot No. 62, 1st Floor, Mahadev Nagar, Behind Gitanjali Petrol Pump, Varachha Road
Surat 395006
Gujarat, India
Related Companies
Newly Added Products