Truck Scale
---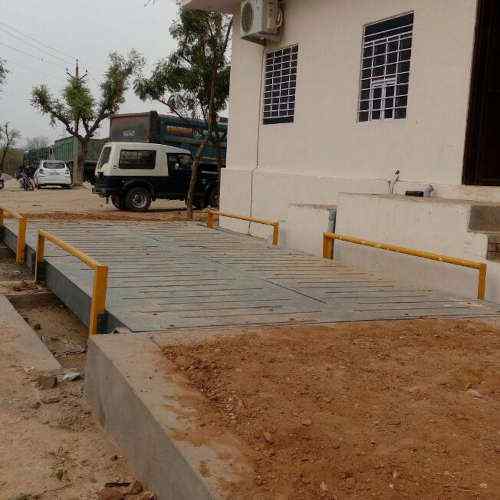 Vishwa Weighing System, Ahmedabad is a leading name in the field of electronic weighbridge and we manufacture all types of weighbridge. Our truck scales are available with steel or concrete decks with sturdy design with proven track record or best performance even during the most demanding condition. We only use premium quality raw materials and components which ensures seamless performance and durability and longevity of our truck scale.

Related Products / Services
Vishwa Weighing System
Started its operation in the year 1990, we are a renowned manufacturer, supplier, exporter of all types of weighbridge from India including fully electronic weighbridge, pitless weighbridge, mobile weigh bridge, pit type weighing bridge, truck scale, modular weighing bridge etc. Our weighing bridge are known for accuracy and reliability and for its long life. We have been able to ensure that the weighbridge requires low maintenance and operates hassle free over a long period of time and the money invested by our customers on weighbridge gives good ROI.

We follow stringent quality control measures and our quality professionals ensure that the best weighbridge and products are delivered and installed at our client's site. We are one of the very few companies in the western part of India which is growing very fast and may soon be at the top of the graph. It has been doing a tremendous work by catering to the demands of the industry by delivering them best quality weighing products and exceeding their expectations and specifications. One of the mantra of our succes is focus on delivery only quality products at the most competitive pricing.
Products / Services
---
Electronic weighbridge, pitless weighbridge, mobile weigh bridge, pit type weighing bridge, truck scale, modular weighing bridge, weighbridge, fully electronic weighbridge, electronic weighing scale, fully electronic weighing scale, table top scales, platform scales, mechanical weighbridge, weighbridge accessories
Year of Establishement
1990
Nature of Business
Manufacturers, Exporters
Contact Person
Mr. Shankar Thakur
Contact Us
---
Vishwa Weighing System
D/4, 3rd Floor, Galaxy Avenue, National Highway No. 8, Naroda Road
Ahmedabad 382340
Gujarat, India
Related Companies
Related Products/Services in Ahmedabad