Mobile Flexi Weighbridge
---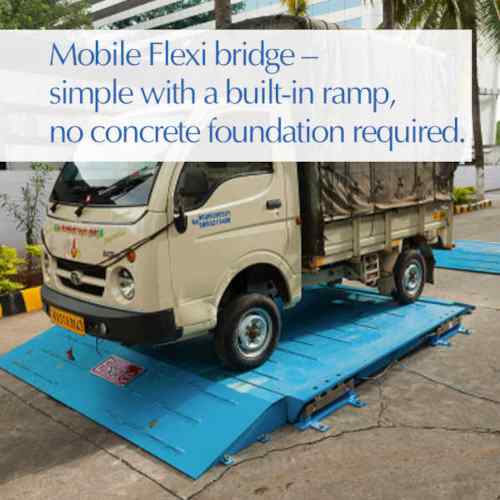 Mobile Flexi Weighbridge is so easy to set up! Just connect and weigh, even the platforms can be adjusted to suit any carrier. Flexi Weighbridge offers many advantages over other types of electronic weighbridges. They are adjustable for different types of carriers, requires no civil work, can be shifted from one place to another, is low cost and can be installed in a matter of hours.

Features of Flexi Weighbridge
Mobile Adjustable Platforms to suit different carriers with varying axle distance.
Low height with built-in ramp for vehicles to mount the weighbridge.
Easy to setup, operate and connect weigh bridge.
No civil foundation work required and can be easily placed on any hard and plain surface.
Since they are not permanently fixed, it can be shifted easily from one place to another.
It is a low cost weighing scale as does not reqire any civil cost related expenses.
Related Products / Services
Essae Digitronics Pvt. Ltd.
Essae Digitronics Pvt. Ltd., Bangalore is a well-recognized manufacturers, exporters and suppliers in India of a gamut of Electronic Weighbridge, Scales and Systems. Our range include Concrete Weighbridge, Mobile Weigh Bridge, Steel Weighing Bridge, Pitless Weighbriges, Truck Scale, Rail Weighbridge etc. We are a part of Essae Group of Companies along with other sister concerns. The organization is ISO 9001 certified and has also certified with ISO/ TS 16949:2002 for Automotive Business since October 2003. Essae group is the conglomerate of six business divisions. We provide high quality products for the automotive & transportation sector and are one of the largest suppliers in India.
Products / Services
---
Mobile Weighbridge, Portable Weighbridge, Concrete Weigh Bridge, Rail Weighbridge, Truck Weighing Bridge, Mobile Weigh Pad, Concrete Weigh Bridge, Steel Weighbridge, Tufdek Weighbridge, Weigh In Motion, Weigh Pads, Rail Weigh In Motion, Truck Weigh In Motion, Flexi Weigh Bridge, Onboard Weighing System
Year of Establishement
1996
CIN
U31101KA1996PTC019747
Nature of Business
Manufacturers
Contact Person
Mr. P. Shankar
Certification
An ISO 9001:2015 and ISO TS 16949:2009 Certified Company
Contact Us
---
Essae Digitronics Pvt. Ltd.
13, 2nd Floor , 13th Cross, Wilson Garden
Bangalore 560027
Karnataka, India
Related Companies
Related Products/Services in Bangalore