Kids Slide In Bangalore
---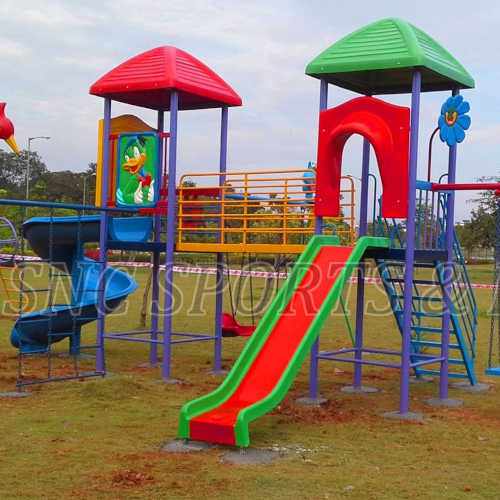 We have gained prominence in Bangalore as manufacturers and suppliers of Kids playground slide. These playground slides are available in radiant colors, elegant designs, various shapes and sizes and not only provides fun and enjoyment to the kids but also help in their mental and physical growth.

Our children slide is appreciated by kids as well as by our clients for their superior quality, safety and comfort of the users, usage of non-toxic and high quality materials and negligible maintenance.
These are popular in residential parks, children playground, play school, creches, daycare centers, shopping malls, amusement parks, nursery school etc. We are located in Bangalore, Karnataka, India and all our children playground equipment are delivered all over India.
Related Products / Services
S. N. C. Sports and Play Equipments
S. N. C Sports and Play Equipments, Bangalore is leading manufacturers, suppliers & dealers in India of Children Play Equipment, School Furniture, Playground Equimpent, Basket Ball Post & Board, FRP Products, Gym Equipment, Park Benches, Volley Ball Post, Multi Play Systems, Metal Dust Bins and all type Sports Equipments and we are also service providers for all these equipment.
Products / Services
---
Playground Equipment, Kids Slides, Swings, School Furniture, Sports Equipment, School Desk, Park Benches
Year of Establishement
2013
Nature of Business
Manufacturers
Contact Person
Mr. S. Gangadhar
Contact Us
---
S. N. C. Sports and Play Equipments
14, Segie Halli, Behind Bhairaveshwara Timbers,Magadi Main Road, opposite Rashi Residency
Bangalore 560091
Karnataka, India
Related Companies
Related Products/Services in Bangalore