Electronic Movable Weighbridge
---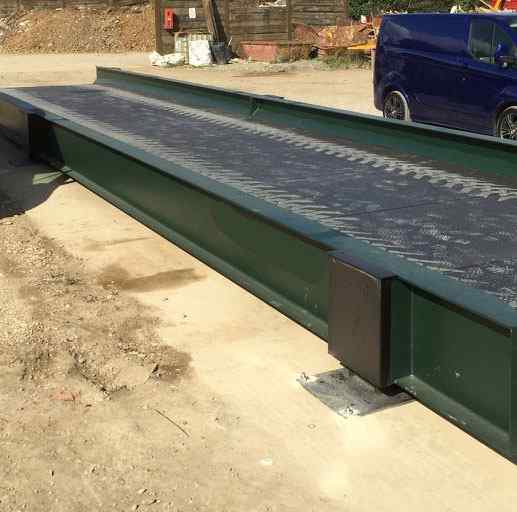 Backed by years of experience in the domain, today we are a respected manufacturers and suppliers in India of electronic mobile weighbridge which offers great flexibility in case of shifting of weighbridge to another location. These are movable weighbridge which are preferred when weighbridges are required for short duration or for temporary sites.

Mobile Weighbridge are designed in modules are can be easily transported at the site of the clients in any truck. These are surface mounted truck scale which does not require any concrete foundation and can be placed directly on hard and level ground. It can be installed in few hours and the operation can be started instantly. Fabricated using mild steel, the load cells are place between the top deck and the bottom frame which acts as the foundation. These are easy to operate and requires negligible maintenance which is very easy. We are located in Bahadurgarh, Haryana with clients all over India.
S. S. Weighing Solution
Established in the year 1996, S.S Weighing Solution is a premier manufacturers and suppliers of various kinds of Weighbridge, Electronic Weighbridge, Portable Weighbridge, Weighing Automation, Digital Weighbridge, Pitless Weighbridge among others. All these products are high in quality and also we deliver adequate services related to our products. Our products are demanded in the market for their technology and user-friendly applications. We manufacture and install our weighbridges as per the requirements of our clients as well as standard products.

We are one of the pioneers and market leaders in pitless electronic in-motion wagon weighbridge and pitless electronic weighbridge in India. Operating from Haryana, We are a premier company involved in manufacturing and supplying of various kinds of electronic weigh bridge including portable weighbridge, digital weighbridge, modular weighbridge etc. In last twenty years of functioning we have gathered huge experience and a large client base all over the country owing to our continuous focus of quality of our prouducts, after safe service and reasonable pricing.
Products / Services
---
Digital Weigh Bridge, Electronic Weighbridges, Electronic Weighbridge, Portable Weighbridge, Weighing Automation, Pitless Weighing Bridge, Mobile Weigh Bridge, Weighbridge Software, Weighbrdige Repair Services, Industrial Weighbridge, Table Top Scales, Weighing Scale Spare Parts
Year of Establishement
1996
Nature of Business
Manufacturers, Exporters
Contact Person
Mr. Sudhir Kumar
Certification
an ISO 9001:2015 Certified Company
Contact Us
---
S. S. Weighing Solution
Plot No - 184, MIE, Part-A, Bahadurgarh
Bahadurgarh 124507
Haryana, India