Pitless Weigh Bridge
---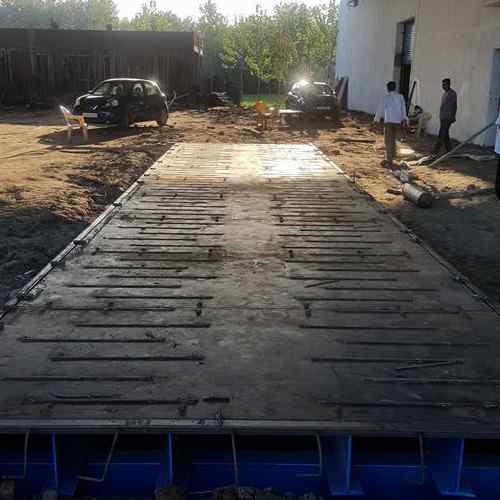 Sansui offers pit less type weigh bridge that makes weighing easy and cost effective. Among various truck scales products, pit less weighbridge is most popular for its various features and benefits. Identical to pit truck scales, pit less type weighbridge gives you more flexibility in less cost. The robust quality of pit less weighbridge platform remained intact even with heavy loads cells.

Due to elimination of pit, installation process becomes easy and quick. It just needs RCC ramps of 3 meters and your work is done. The elimination of a pit also reduces the maintenance such as high water table, drainage, etc. This type of weighbridge is very useful if relocation of a site is anticipated or budget is small. The pit less weighbridges have become the most preferred option for the current world, due to its less maintenance and easy installation procedure.

Related Products / Services
Sansui Electronics Pvt. Ltd.
"Sansui Electronics Pvt. Ltd.", Pune, Maharashtra is an organization synonymous with a high quality range of electronic weighing systems & truck scales. Our comprehensive range of electronic weighbridges include Mobile Weigh Bridge, Pit type weighbridge, Pitless Weigh Bridge, Custom Built Weighbridges etc. We have specially engineered Electronic weighbridges that are equipped to give detailed print reports and are also compatible with PCs.

"Sansui" weighbridges abide by the Standards of the Weights and Measures Department of India and have set international standards in truck weighing. SANSUI is an Indian manufacturer and marketer of technical metrology instruments. SANSUI is ISO 9001:2015 certified company and all its instruments are approved for commercial use by Legal Metrology Organization, ETDC and ERTL under the authority of Weights and Measures. The company manufactures measurement devices to ensure the suitability of measurement in equipment with proper calibration and quality control to use it in society.
Products / Services: Electronic Weighbridge, Mobile Weigh Bridge, Pit Type Weighbridges, Pitless Weighing Bridge, Weighbridge Conversion Kit, Digital Weighing Solution, RCC Weighbridge
Year of Establishement
1989
CIN
U29196PN1990PTC058474
Nature of Business
Manufacturers
Contact Person
Mr. Sebastian Joseph
Certification
ISO 9001:2015 certified
Contact Us
---
Sansui Electronics Pvt. Ltd.
Plot No. E-59, Market Yard, Near Krishi Pannan, Gultekdi
Pune 110039
Maharashtra, India
Related Companies
Newly Added Products